Courtney Bree
I Slid into Beyoncé's DMs! [LEMONADE]
Updated: Feb 11, 2018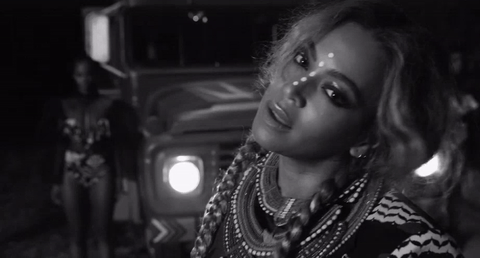 Hello people of the Internet.  Many of you have asked me to share my thoughts on Beyoncé's Lemonade, so I will try to break this down as eloquently as possible.  It is no secret that (in my head) I am the Founder and President of the BeyHive.  I, too, am from Houston and claim her wholeheartedly as a distant cousin :-D.  Originally, I was going to share my thoughts objectively and suppress the "yaaaaaaaaaaaasss's" and "SLAY QUEEN!'s", but I've decided I am going to give you guys my honest opinion, as a QUEEN BEY SUPER FAN.
I sobbed.  I was overwhelmed by how she so beautifully merged music, art, and reality.  We watched it on a loop the first night. Six times. By the third showing I was physically exhausted because I had felt every emotion humanly possible…so deeply.  It was strange and ethereal. Maybe it was shock.  Disbelief, perhaps?
However, for the first time in a really long time, I felt empowered.  When an artist has the ability to touch the masses and make people feel something…ANYTHING, then they have mastered their craft.  Lemonade sparked something in me that none of her other albums have done before.
1. THE ART:  The cinematography was breathtaking.  I was impressed by how cohesive the transitions between the different stages were.  My favorite was when she drops into the Denial stage, and lands underwater in this BEAUTIFUL master bedroom.  But even with all of the fancy things around her, she can't breathe.  Been there. She takes us on this incredible journey and opens up to us in a way that she has never (I believe) done before. I can rant and rave about the art throughout this masterpiece but that would be a dissertation.  I want you guys to make it to the end of this post.
2. THE MUSIC: WHAT CAN I SAY?! BEYONCÉ IS BEYONCÉ AND WILL ALWAYS BE BEYONCÉ! This is where Coco the Super Fan emerged. Bey loves music and it will ALWAYS show in her songs.  She is an innovator.  The melodies and harmonies throughout this entire album are risky.  She takes it there with no apologies.  Dare I say ,"She ain't sorry" 😉 .  One of my favorite songs on the album is Freedom.  It is time.  This is the perfect time for us to recognize our responsibility in this society as free young Black Americans. I think she is finally taking advantage of her platform, and using it to inform while entertaining.
3. THE MESSAGE(S): There are so many messages in Lemonade.  Again, I would have to publish a dissertation (I just might write a small book) but there are a few main points that stood out the most to me. The first, and probably most obvious, is that when you are facing adversity, you make do with what you have and push through, make lemonade from lemons essentially.  She also teaches about the power of forgiveness.  Even the most "unforgivable" sins can be forgiven.  I also loved all of the imagery surrounding the Black woman.  One of the most powerful images that stuck with me was when the women were in olden attire gathered together outside. It was amazing to see them looking regal and strong when before, we wore these clothes during a time where we were made to feel less than.  The natural hair, the unity, the love…Here we are, 4 days later and I can still see Beyoncé sitting on TOP of the trees we used to be hung from.  I am and so proud of her for being proud to be Black.  She showed the world that "this is Black and BLACK IS BEAUTIFUL". I am here for it!
When it was over,  I logged into Instagram.  Of course social media was going nuts.  Amidst the chaos, y'all, I slid into her DMs…
I just had to thank her for not only producing creative content that we can relate to, but for giving us music that will wake people up to today's agenda.  As I sat there in a room full of my young black creative peers, having a deep commentary on what it means to forgive, what it means to be Black in 2016…words escape me.  It was powerful.  I am all the way in FORMATION now and ready to conquer the world.  See you at the concert next week Mrs. Carter!